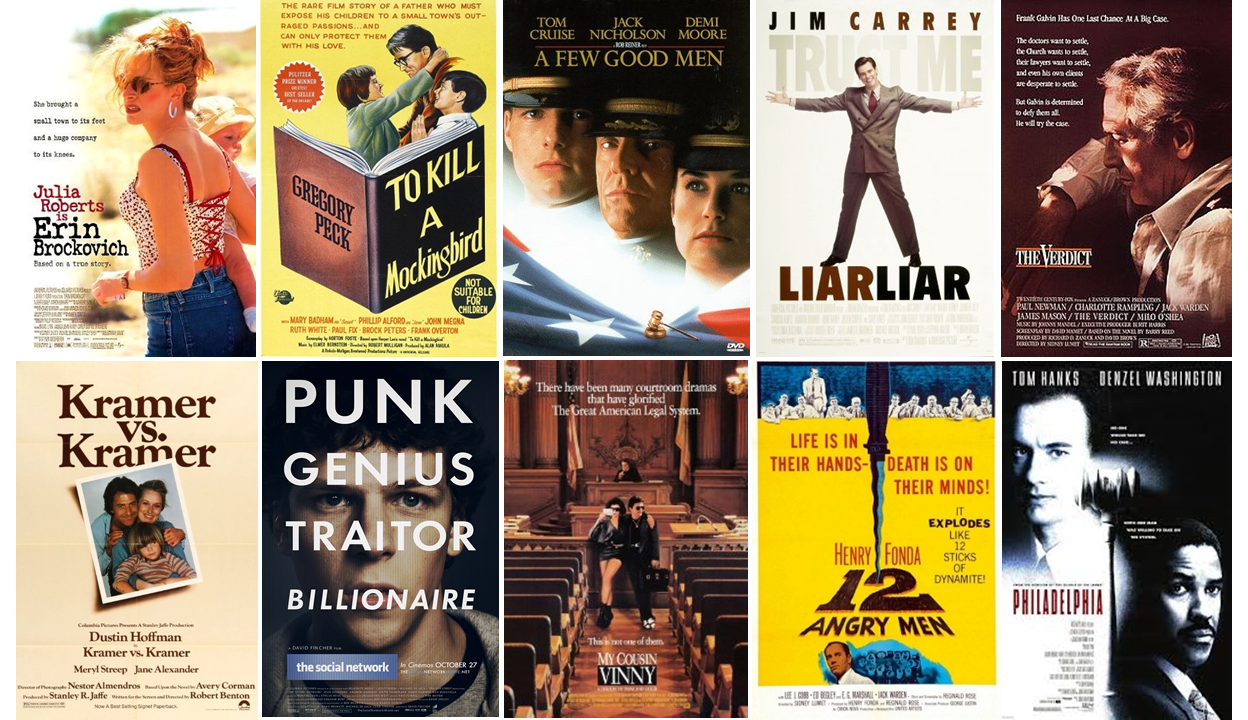 Luckily for us, the legal industry is commonly featured in some of Hollywood's greatest films. What's difficult is trying to pick your favorites! Remote Counsel recently polled some of our employees to try and narrow down our Top 10. Here are the results in no particular order!
Erin Brockovich
Julia Roberts won the Oscar for Best Actress for her role in this 2000 film (who could forget her hilarious acceptance speech?). The biographical film follows Brockovich, a legal assistant and single mother of three, and her determination to bring down a California power company that was allegedly polluting a city's water supply. Check out one of our favorite scenes here (some profanity is used).
Kramer vs. Kramer
Released in 1979, Kramer vs. Kramer stars two of the most celebrated actors of all time - Dustin Hoffman and Meryl Streep. After Streep's character, Joanna, leaves Ted (Hoffman) and their son Billy, father and son form a special bond that was previously forgotten. This bond is threatened by the couple's impending divorce and vicious custody battle. The film was critically acclaimed, and went on to win five Oscars for Best Picture, Best Actor, Best Actress in a Supporting Role, Best Director, and Best Adapted Screenplay. Check out one of our favorite scenes here.
To Kill a Mockingbird
Many consider To Kill a Mockingbird (1962) to be the best legal film of all time, as well as one of the best films of all time. Based off the Pulitzer Prize-winning novel by Harper Lee, the film follows Atticus Finch - a lawyer in the Depression-era South - as he defends an innocent black man accused of raping a white woman. The film won three of its eight Oscar nominations, including Best Actor (Gregory Peck) and Best Screenplay. Watch the stunning scene where Atticus cross examines Mayella here.
The Social Network
You might be surprised to see The Social Network (2010) included in this list, as it focuses mainly on the story and creation of Facebook. However, a large portion of the film takes place in various depositions as Mark Zuckerburg, the founder of Facebook, is being sued by multiple parties. You'll see a few court reporter cameos in this mezmorizing film, which won three of its eight Oscar nominations. Check out one of our favorite scenes here.
A Few Good Men
Even if you haven't seen A Few Good Men, you're probably familiar with some of it's more notable quotes ("You can't handle the truth!"). Released in 1992, the film stars Tom Cruise, Demi Moore, and Jack Nicholson and chronicles the preparation and court-martial of two U.S. Marines accused of murdering their fellow Marine. Check out everyone's favorite scene here.
My Cousin Vinny
All hail Marisa Tomei. My Cousin Vinny, released in 1992, follows two young New Yorkers who are mistakenly accused of murder, and their lawyer, Joe Pesci. Pesci's comedic antics while defending the two, his rocky relationship with his girlfriend (Tomei), and the realistic court proceedings have made this film a favorite of those in the legal industry. Watch one of our favorite scenes here.
12 Angry Men
This critically-acclaimed trial film tells the story of a jury made up of twelve men as they deliberate the guilt or acquittal of a defendant on the basis of reasonable doubt. Released in 1957, the film is notable for its cinematography and exploration of controversial topics. It was nominated for Best Film, Best Director, and Best Screenplay Oscars. Watch one of our favorite scenes here.
Liar Liar
We know, we know. This 1997 film might not be an Oscar winner or even all that realistic, but we can't get enough of Jim Carrey's over-the-top acting (and hey, at least he was nominated for a Golden Globe for his performance!). Carrey plays a workaholic lawyer and father who never makes time to spend with his son. After his son makes a birthday wish that prevents him from lying, Carrey has to go 24 hours telling the truth in the middle of his biggest case. Watch the shenanigans unfold here.
The Verdict
This 1982 courtroom drama is about an alcoholic, out-of-work lawyer who takes a medical malpractice case to trial as opposed to settling in an effort to not only try to salvage his career, but also to regain some of his own self-respect. Starring Paul Newman, the film was nominated for five Oscars and was a box-office success. Watch one of Newman's powerful scenes here.
Philadelphia
This groundbreaking 1993 drama was one of the first Hollywood films to acknowledge HIV/AIDS and homosexuality, as well as homophobia. The film tells the story of a lawyer named Andrew Beckett who was unfairly fired because of his diagnosis. Played by Tom Hanks, the man hires a homophobic, small-town laywer (Denzel Washington) to represent him in his wrongful dismissal suit. Hanks's performance was so powerful that he won the Oscar for Best Actor. Watch an emotional scene from the courthouse here.
Honorable Mentions:
Legally Blonde: There just wasn't something quite right about including one of our favorite guilty pleasure movies in a list with Philadelphia, To Kill a Mockingbird, and 12 Angry Men. That doesn't mean we love it any less. This goofy comedy might be a little unrealistic, but it has a good message overall. When Elle Woods's boyfriend dumps her on the night she expects a proposal, she applies to Harvard Law School to win back his heart. After some embarrassing encounters, she pledges to become the best student in their class - and succeeds. Watch Elle Woods stun the courtroom here.
Animal House: Calling this comedy classic a legal movie is a stretch, but we can confidently say the Delta's on trial is the funniest courtroom scene ever made. You know you wanted to throw on a toga and march to the Star-Spangled Banner with them. Watch the scene here, but be prepared for a decent amount of profanity.
There you have it: Remote Counsel's favorite legal films ever made. Did your favorite make the list? Or did we miss any you think should have been included? Let us know in the comments!