Meet the Team!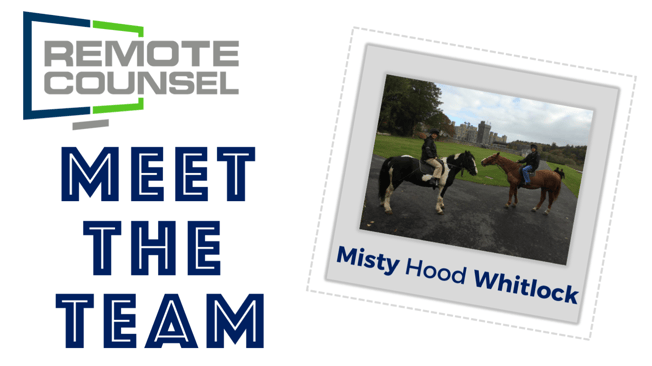 Each month, Remote Counsel will feature one of our team members on the blog to let you get to know us a little better.
This month's spotlight is on Misty Hood Whitlock! Most of our partners are familiar with Misty, Remote Counsel's finance guru. Read on to find out why Misty's favorite meal, which fictional character she would be, and her biggest guilty pleasure!
What is your role at Remote Counsel?
Accounts Receivable and Accounts Payable Manager
Describe yourself in 50 words or less:
I'm an Oglethorpe University alumna who loves to travel with my wonderful husband, read, watch documentaries, try craft beers and have been getting into wine tasting. I'm big on making lists and checking everything off. I'm very organized. I volunteer at a hospice and am a regular churchgoer.
Why do you like working at Remote Counsel?
My co-workers (and many of our customers!) are super nice and funny.
If you could be any fictional character, who would you choose?
Either Arya Stark from the Game of Thrones series or the Count of Monte Cristo. Someone who triumphs over the odds.
What's the best meal you've ever had at a restaurant?
Roman artichokes, homemade buffalo mozzarella and steak tartare with fresh Tuscan olive oil and sangiovese at Tulio in Rome, Italy. It made me cry it was so good, and was surprisingly reasonably priced.
What is your favorite thing about the court reporting industry?
Being of service to so many hard-working people.
What chore do you absolutely HATE doing?
I don't mind household chores, but I do dread weeding the garden in July.
What is your favorite Remote Counsel memory?
A former co-worker of mine did "the worm" in the Support room one day. He literally threw himself on the floor in front of all of us. I would pay to see that again.
What is the #1 item on your bucket list?
Swimming with a platypus at The Healesville Sanctuary outside of Melbourne, Australia. You can get in the pool with just the trainer and the platypus - amazing!
What is your biggest guilty pleasure?
Scrapbooking. I love it but I spend way too much money trying to make each one perfect.
What is your favorite book?
Gone With the Wind is probably my all-time favorite, but I also love Anna Karenina, To Kill a Mockingbird and Sophie's Choice.
How would your coworkers describe you?
I'm sure they'd tell you I drive them crazy with follow-up on billing details, but hopefully they'd also say I'm a fun person who strives to do the job correctly on a consistent basis.
What would people be surprised to know about you?
I love opera . . . and 80's music!
You can contact Misty Whitlock via email at mwhitlock@remotecounsel.com or phone (877) 838 - 9067.
To learn more about Remote Counsel and our partners, check out some of our other blog articles.